Skip Navigation
Website Accessibility
August Newsletter



This year is flying by and I can't believe we have been open for a six months. I would like to thank all who have stopped by, I have truly enjoyed meeting each of you.

In celebration of our first 6 months we will be having special offers throughout the month. Starting this weekend the 5th - 12th Books & Patterns will be 10% off. Online orders use code BP10 to received your discount . Stop by each week or check out our website to take advantage of these great deals.

We are now offering Longarm Services. Be sure to stop in and meet Lucy.




Looking for a new sewing machine, well we can help. We have several Janome sewing machines to choose from.




Tammi Rogers with Mountain Sewing Machine Repair has join us as well. Tammi will not only service and repair your machine, she can also sharpens scissors.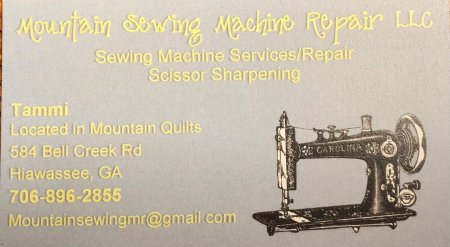 August Class Calendar
---


We are starting our next Beginner Classes on Saturday August 14th. The class will run every Saturday for 8 weeks from 10 - 2. Even if you have zero sewing experience, this is the class for you! This beginner series will start at the basics, building your skills each week, block by block, finishing with a beautiful sampler quilt. The cost of the class is $100. plus supplies.


---
Oh Sew Happy Row by Row Sew Along

J

oin us for this fun Row by Row quilt. Oh Sew Happy is an easy to peace row quilt perfect for the beginner quilters. The easy to follow pattern includes detailed instructions, fabric cutting labels, full color piecing diagrams and is broken down into rows so you can sew the quilt or just choose a favorite row to make a runner or pillow.
Finished size: 58″ x 71″
The class starts on Monday August 16th from 5pm - 8pm. The price is $160 and includes the complete kit with pattern, fabric for top and binding (backing not included).




---
Collage Quilt
Looking to learn a new technique, this one is for you. Created a beautiful wall hanging by using a collage technique that incorporates many different fabrics. Carol Vincent will teach you this method as you create your own unique bear (or fox, moose, flamingo, turtle, etc.), focusing on prints that will make your animal's features stand out. You can use any of Laura Heine's patterns with less than 1 yd dimension. Join us on August 18th form 10am - 3 pm. Price of class is $45 plus supplies. Laura Heine's is pattern required.




---



Come join us for this 2 day class starting on August 19th at 10:00 am. Easily create this black cat and pumpkin scene using one of the Lil' Twister tool. Perfect for fall and Halloween decorating. Squares are magically turned into pinwheels with this fun tool!
Price of the class is $55.00 included the pattern and ruler. You will need to come in a couple of days before the class to choose your fabrics.
---
Withes Hat Pincushion
One of the best kept secrets of stitching and quilting witches are the pincushions made by Portella Carbunkle. She's a very wise and sewing savvy witch who, long ago, spirited up a pincushion that would enchant all needles and pins store in it. It will then give the user magical stitching abilities. We ALL need that, right? Portella also claims that the more bits and bobs and little cute goodies you put on the pincushions hat brim, the stronger the enchantment! Price of the class is $45 and includes everything you need to make this magical pincushion. Join us on Augusta 12th at 10:00 am.




T

he classes are limited.
Reserve your spot today!!
---
Let's Gather!!!!
For Fun Sewday!
Every Friday from 10:00 - 5:00


We have room for 8 people each Friday to assure each person has plenty of workspace. Reserve your spot for only $5 and receive a $5 off coupon to use on any regular price purchase that day.
You can stop by or call the shop to make your reservation(s).
---
Mountain Quilts
586 Bell Creek Road
Hiawassee, GA 30546
706-896-3848

email: info@mountain-quilts.com